Reading Objectives
Request FREE Review Copies | View Sample Pages | Product Codes | Prices and Ordering Information
Available for grades 2–8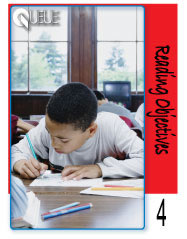 These workbooks are ideal for those students simply needing more rote practice with reading passages and responding to typical multiple-choice questions. They are best for students working below reading level and can easily be assigned for homework.
Help your students identify and practice the skills they most need to improve with this series of reading workbooks. Each question in these extraordinary books targets a specific skill that students must master to succeed on state assessments.
The passages in these workbooks consist of narrative and expository text. Expository passages include informative, biographical, and how-to selections.
There are mixed passages and paired passages. Mixed passages put two different kinds of writing together in one lesson. Paired passages have two separate passages about the same topic that are read together.
Questions follow each passage. The answer keys in the Teacher Edition identify the type of passage, the higher-level vocabulary found in each passage, and each reading objective tested along with its correct answer, as well as extension activities that may be used as followup after each passage has been used for assessment.
If you would like to target a specific area where students need improvement or development, then these books are for you!
The material in these workbooks is identical to that found in the remediation Reading Objectives workbooks.
---
Sample Pages
Choose from the following menu to download a PDF of a few sample pages from one of our Reading Objectives workbooks.
---
Product Codes for Reading Objectives
To better facilitate the ordering process, please use the following product codes when placing your order. Click here for information on interactive whiteboard versions.
| | | |
| --- | --- | --- |
| Grade | Student Code | Teacher Code |
| 2 | QWK 1531 | QWK 1532 |
| 3 | QWK 7288 | QWK 7289 |
| 4 | QWK 7290 | QWK 7291 |
| 5 | QWK 7292 | QWK 7293 |
| 6 | QWK 7688 | QWK 7689 |
| 7 | QWK 7690 | QWK 7691 |
| 8 | QWK 7692 | QWK 7693 |
---
Prices and Ordering Information
Pricing

15-29 Student Workbooks: $13.95 ea.

30+ Student Workbooks: $12.95 ea.

FREE Teacher's Edition for every 30 copies of a single workbook title purchased

Additional Teacher Editions: $14.95 ea.




Queue workbooks are copyright protected. Workbooks may not be photocopied or duplicated.

Teacher editions may not be purchased separately. You may purchase 1 teacher's edition for every 15 student workbooks of the same title.

Contact Queue sales by phone at (800) 232-2224 or by fax at (800) 775-2729. You can also download and print out our order form. Ordering information can also be found on our Policies page.