Vocabulary in Context
Request PDF Sample Pages | View Sample Pages | Product Codes | Prices and Ordering Information
Available for grades 5–8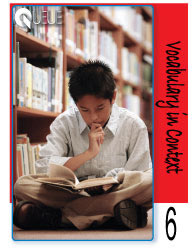 Research has shown that a good vocabulary is a key to accelerating in reading comprehension. Each of these remarkable workbooks introduces and reinforces several hundred new vocabulary words in a few unique ways.
Students are asked to read and study a short list of words and their definitions. Then, sentences with blanks are provided for students to, based on their understanding, fill in the correct words. Students will also be asked to write a short paragraph using the words.
These books will increase your students' vocabulary and even provide writing practice to improve their reading comprehension. Students reading below grade level can work in these books without feeling left behind or out of place. Those working above grade level can get extra practice.
---
Sample Pages
Choose from the following menu to download a PDF of a few sample pages from one of our Vocabulary in Context workbooks.
Coming soon.
---
Product Codes for Vocabulary in Context
To better facilitate the ordering process, please use the following product codes when placing your order. Click here for information on interactive whiteboard versions.
| | | |
| --- | --- | --- |
| Grade | Student Code | Teacher Code |
| 5 | QWK 1048 | QWK 1049 |
| 6 | QWK 1050 | QWK 1051 |
| 7/8 | QWK 1068 | QWK 1069 |
---
Prices and Ordering Information
Pricing

15-29 Student Workbooks: $13.95 ea.

30+ Student Workbooks: $12.95 ea.

FREE Teacher's Edition for every 30 copies of a single workbook title purchased

Additional Teacher Editions: $14.95 ea.




Queue workbooks are copyright protected. Workbooks may not be photocopied or duplicated.

Teacher editions may not be purchased separately. You may purchase 1 teacher's edition for every 15 student workbooks of the same title.

Contact Queue sales by phone at (800) 232-2224 or by fax at (800) 775-2729. You can also download and print out our order form. Ordering information can also be found on our Policies page.