Editing and Revising
Request PDF
Sample Pages | View Sample Pages | Product Codes | Prices and Ordering Information
Available for grades 2–8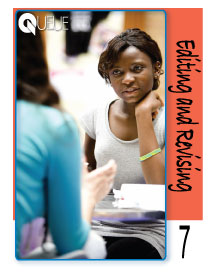 Do you need a resource to give your students extensive practice in the often difficult and elusive skills of editing and revising? These workbooks may be just what you're looking for.
Students are required to read passages embedded with errors of grammar, usage, mechanics, content, and organization. They are then asked multiple-choice questions designed to help them recognize and correct these mistakes.
These exercises will help students to better understand the essential skills of finding and correcting editorial problems and revising writing appropriately. Students will soon be on their way to becoming more knowledgeable about these two very important steps in the writing process.
Hours of practice on skills leading to editing and revising mastery.
High-interest passages embedded with most the common errors of grammar, usage, mechanics, content, and organization.
Multiple-choice questions after each passage help students find, recognize and correct mistakes.
Teacher Editions provide correct answers and identify the skill targeted in each question.
The material in these workbooks is identical to that found in the remediation Editing and Revising workbooks.
---
Sample Pages
Choose from the following menu to download a PDF of a few sample pages from one of our Editing and Revising workbooks.
---
Product Codes for Editing and Revising
To better facilitate the ordering process, please use the following product codes when placing your order. Click here for information on interactive whiteboard versions.
| | | |
| --- | --- | --- |
| Grade | Student Code | Teacher Code |
| 2 | QWK 2387 | QWK 2388 |
| 3 | QWK 2027 | QWK 2028 |
| 4 | QWK 2029 | QWK 2030 |
| 5 | QWK 2031 | QWK 2032 |
| 6 | QWK 2033 | QWK 2034 |
| 7 | QWK 2035 | QWK 2036 |
| 8 | QWK 6428 | QWK 6429 |
---
Prices and Ordering Information
Pricing

15-29 Student Workbooks: $11.95 ea.

30+ Student Workbooks: $10.95 ea.

FREE Teacher's Edition for every 30 copies of a single workbook title purchased

Additional Teacher Editions: $14.95 ea.




Queue workbooks are copyright protected. Workbooks may not be photocopied or duplicated.

Teacher editions may not be purchased separately. You may purchase 1 teacher's edition for every 15 student workbooks of the same title.

Contact Queue sales by phone at (800) 232-2224 or by fax at (800) 775-2729. You can also download and print out our order form. Ordering information can also be found on our Policies page.